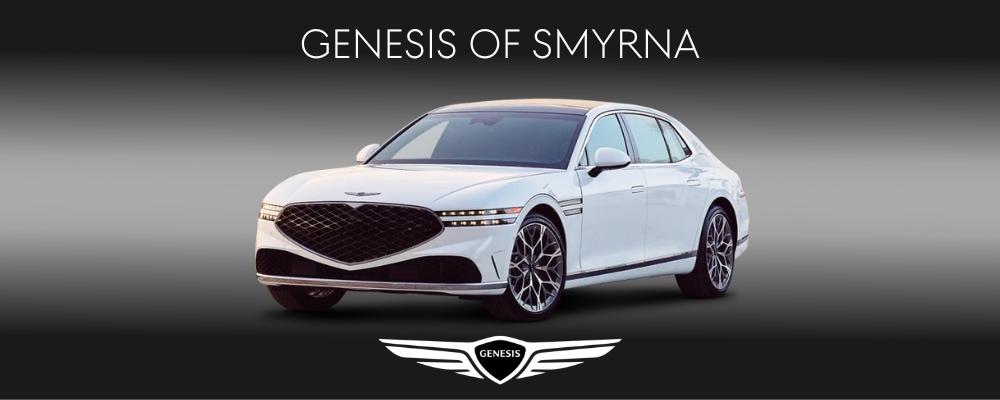 If you're looking for a vehicle that matches your passion and innovation, look no further than Genesis. At Ed Voyles Genesis of Smyrna, we have the right vehicle to fit your style and needs. Read more about what makes Genesis a great choice and check out our inventory online or stop by the dealership today!
What Makes the Genesis Brand Unique?
Genesis is the brand of the future. It embraces sleek, modern designs and aims to combine quality with affordability to make a positive impact on the lives of those who choose to drive with Genesis. Our luxury vehicles don't break the bank like other competing brands. Genesis is also constantly growing and innovating to improve safety, reliability, and efficiency. Also Genesis is newer to the automotive world, it is quickly making its mark as one of the best luxury brands on the market.
Genesis Models at Genesis of Smyrna
Ed Voyles Genesis of Smyrna maintains an inventory of high-quality Genesis models fit for every journey. For efficiency and reliability, choose from our sedans: 
 
The G70 is more the sports model of the Genesis brand. At the most affordable price, enjoy streamlined handling, impressive interior materials, and a more compact ride. 
If you can't decide between your options, the G80 is a safe bet. It's the go-between of the peppy sports-like sedan and the plush luxury model. There's plenty of room for passengers and cargo while maintaining the sophistication of a luxury vehicle.
To really immerse yourself in the luxury of a Genesis, choose the G90. You'll enjoy a spacious interior, can upgrade to an impressive V8 engine, and cruise in absolute comfort.
If you're looking to go the electric route, choose the Electrified G80. With AWD capability and dual 136kW electric motors, the road is yours.
For increased space and versatility, try a Genesis SUV: 
 
The GV60 is all about performance. It has two electric motors that get up to 429 horsepower and 446 lb-ft of torque. With enhanced standard safety features, the GV60 is the choice if you're looking for power and protection on the road.
If you'd like a more affordable option that amps up its cargo space, choose the GV70. This model also has a slight edge over the GV60 in terms of technology features.
For maximum space, the GV80 is the right choice. Seat up to seven passengers comfortably and enjoy a more spacious cabin.
 
Ultimately, only you know the best choice for you. Stop by the dealership to get to know your options and schedule a test drive!
Top-of-the-Line Service at Ed Voyles Genesis of Smyrna
Ed Voyles is a trusted name throughout all of Georgia. We take pride in being a family-owned establishment that puts community and transparency first. We work hard to make sure you have the best experience possible. Take advantage of concierge and valet services, complimentary offers, and a state-of-the-art facility. Stop by today to browse our Genesis inventory.